23.10.2017
The Research Center Pharmaceutical Engineering and CMAC Future Manufacturing Research Hub announce strategic partnership to advance pharmaceutical manufacturing
The Research Center Pharmaceutical Engineering (RCPE) and CMAC (Continuous Manufacturing and Advanced Crystallisation) announce a new international partnership to accelerate progress in advanced manufacturing for pharmaceuticals. By combining their world-leading and, complementary expertise and facilities this partnership provides a single-source platform for accessing new product and process design knowledge.
The collaboration will support pharmaceutical companies in their efforts to modernise their manufacturing processes, by providing the necessary predictive tools, methods and design approaches to fully realize the potential of regulatory and industry-driven initiatives such as Quality-by-Design (QbD). These new technologies offer the possibility to not only disrupt but revolutionize the access to medicine and pharmaceuticals whilst, the strict requirements for quality, safety and performance must are assured.
"It is our goal to expedite drug development from R&D to commercial production while at the same mitigating risk and improving regulatory submissions," stated Prof. Dr. Johannes Khinast, CEO and Scientific Director of RCPE, "The cooperation of both centres will deliver unmatched platform research scale and capabilities across drug substances and manufacturing technology that will benefit industrial partners."
"The partnership provides a platform to grow our collaboration with RCPE and accelerate key areas of manufacturing research aligned with the fundamental needs of our industry partners," said Prof. Alastair Florence, EPSRC CMAC Future Manufacturing Research Hub Director, "This also creates exciting opportunities to ensure that our research is translated to an industrial reality more quickly than is currently possible, ultimately improving the lives of patients."
While collaborative research projects and joint development of innovative technology and solutions remain the focal point of the partnership, both centres will engage in joint activities aiming to further connect scientists, experts from industry and regulatory offices. "CMAC and RCPE are already part of the I2APM Initiative and we will continue to expand our efforts to create a vibrant international community of researchers, " said Massimo Bresciani, Executive Director of Scientific Operations & Business Development, RCPE. "Training and preparing all stakeholders of the industry is essential to maximizing the impact for the end user."
Furthermore, regular conferences, visits and exchanges of researchers of RCPE and CMAC help to facilitate an exchange of ideas and provide new perspectives. "To us, science & research has always been a collective effort. When we are able to work together, anything is possible", adds Craig Johnston, Industry Director of CMAC.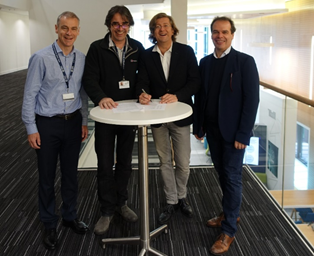 Signature of the partnership contract (from left to right: Craig Johnston, Prof. Alastair Florence, Prof. Dr. Johannes Khinast, Massimo Bresciani) © CMAC
---
Press Contact, Inquiries, Picture Material

Constantin Schmidt Claire McDonald
Research Center Pharmaceutical Engineering GmbH CMAC Future Manufacturing Research Hub
Inffeldgasse 13, A-8010 Graz TIC, 99 George St, Glasgow G1 1RD
Tel.: +43 316 873 30987 Tel.: +44 141 444 7102
E-Mail: constantin.schmidt@rcpe.at E-mail: claire.macdonald.101@strath.ac.uk
---
Information about the organisations


RCPE GmbH
Together with the global players in the pharmaceutical industry, the K1 Competence Center Re-search Center Pharmaceutical Engineering (RCPE) performs cutting-edge research in the field of process and product optimization. The main focus is on the development of new drug delivery systems and the associated production processes and their monitoring. In addition to an experienced multidisciplinary and international team the outstanding achievements of the center due to its proximity to the universities of Graz. Thus, being a link between science and industry, RCPE offers state-of-the-art business-oriented research. RCPE is owned by Graz University of Technology (65%), the University of Graz (20%) and the Joanneum Research GmbH (15%).
For more information visit www.rcpe.at
CMAC Future Manufacturing Research Hub
CMAC is a world-class international centre for manufacturing research and training. Its vision is to lead the world in crystallisation and the adoption of continuous manufacturing. Working in partnership with industry, its purpose is to transform current manufacturing processes into the medicine supply chain of the future. CMAC's vision has been developed through close collaboration with industry and the support of its Tier 1 partners; GlaxoSmithKline, AstraZeneca, Novartis, Bayer, Takeda, Lilly and Roche and a wide range of technology companies. In 2017, the EPSRC Future Manufacturing Research Hub was launched. This 7 year program, led from the University of Strathclyde, comprises academic investigators and research staff across 7 leading universities. It will deliver predictive design tools and novel integrated continuous processing platforms for the supply of next generation high performance personalised products.
For more information visit www.cmac.ac.uk
Hosted by CMAC at the University of Strathclyde, Glasgow, the symposium will be an internal I2APM event where the staff and students from all three centres will come together to learn about research being carried out across all institutions
Ass. Prof Heidi Gruber-Woefler (RCPE) will be on secondment at CMAC from September – December 2016